Selling Manufactured Homes Since 1990
Payless Homes & Buildings has been making the American dream of home ownership a reality for over three decades!  We are family owned and operated and have been in the industry for over 25 years.  Our mission at Payless Homes is to help you find a beautiful new home that suits you and your family's needs as well as provide a full service home buying experience.  The manufactured homes we carry are built by respected home builders with reputations for producing charming, reliable, and well constructed homes.  At Payless you will get quality that is built to last at a price you can afford.  
American Owned and Operated Business
Unlike many other companies, we are a family owned company.  We provide only the best homes for our friends and neighbors.  We take pride in choosing the highest quality manufactured homes on the market, we are confident you will enjoy our selection.  
Jeff and Lynn are the owners and operators of Payless Homes & Buildings, located in Chatsworth, GA. For over 25 years, the duo has been offering big-name homes for small-town prices.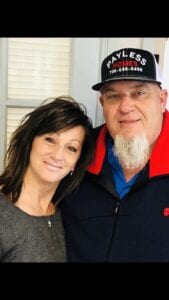 At Payless Homes, we stand by the high-quality homes we sell. We are committed to our products. From beginning to end, we guide you every step of the way to make your buying process easy. All homes are made in the USA by premium builders.